Dominion Voting Systems sued Fox News, and naturally all the coverage shrieks, "OMG FOX KNEW IT WASN'T TRUE BUT LIED!"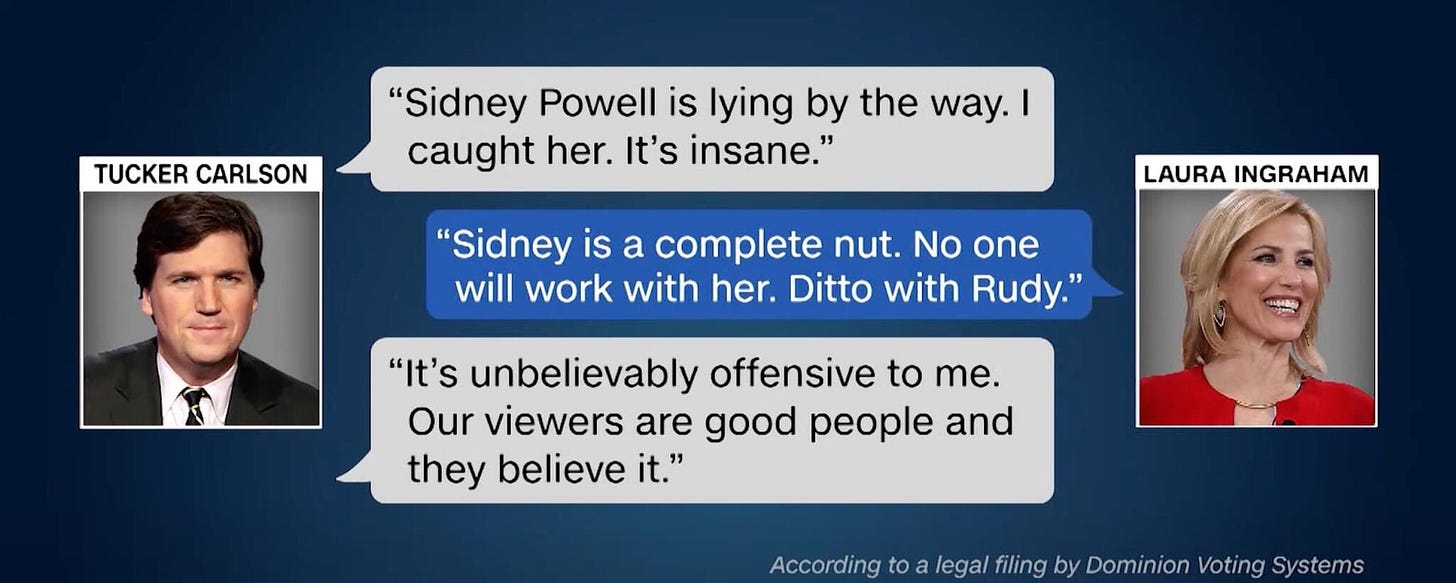 Actually, I think we all remember Tucker Carlson grilling Sidney Powell, and the fact that the news network scarcely dipped a toe into any investigative work in the area. As their lawyers argued in response to Dominion, Fox's role was limited to reporting to its viewers the claims and counterclaims surrounding the election.
As an aside, the Fox filings you can read in full here and here (it's 183 pages), also reveal that Dominion's $1.6bn in claims are 42 times larger than what Staple Street Capital paid to acquire most of the company as recently as 2018. Staple Street has already made most of its money back, by the way, with discovery revealing "Dominion projects revenues of $98 million," for 2022. 
"When Staple Street invested in Dominion, it paid $38.3 million to acquire 76% of the company. Dominion's claim of $1.6 billion in enterprise value is 42 times that amount."
More galling, however, is the refusal to cover the admissions found by Fox, that Dominion employees themselves were not sure about the security of their own systems.
Some of the most critical examples include (with emphasis added):
Discovery in this case has revealed that Dominion's own employees expressed serious concerns about the security of its machines. Mark Beckstrand, a Dominion Sales Manager, confirmed that other parties "have gotten ahold of [Dominion's] equipment illicitly" in the past.
Continue Reading: https://raheemkassam.substack.com/p/fox-vs-dominion-discovery-docs-show?utm_source=substack&utm_medium=email